Chapter 24 - I Greet a New Century with . . . a new animal!
January 4, 2001
That's right. Another animal. Number 6. Yes, he's funny looking. Yes, his proportions are wrong. Yes, he is tiny (7.2 lbs).
Ripley and I were looking through the local paper one evening and the local animal shelter "Pet of the Week" photo caught our eye. Mainly because the dog was funny looking. Then we read that the dog was "visually impaired." Ripley and I looked at each other and said, "This little guy needs to be rescued." Ripley understands these things. We don't pick out animals for our household; they pick us out.
So we told Dad and then took off for the pound. Of course, the dog was much uglier than his picture in the newspaper. "Visually impaired" meant "totally blind for many years." Hey, we can handle it. Ripley rules all, cats and dogs. Even pathetic excuses for dogs.
Actually, the cats can't quite figure out this animal. He doesn't look like ANYTHING they've ever seen, is smaller than them, but stinks like a dog. Even more puzzling to them, he walks right into them and of course they don't understand that he is blind.
The name Riley as you will note is a derivative of Ripley and Ripley is making sure he knows that he is a lesser being. I haven't seen her box his ears lately; I think she has given up. Baby Girl (Beckley) is the friendliest to him; they share an insatiable appetite. I suspect they will end up best of friends although Buck is the one who sleeps on the bed next to him. Ripley, on the other hand, is more concerned with lounging on the radiator on the leopard-print plush comfort pad she got for Christmas. That or relaxing in the Morris chair (the designer Morris, not the cat!) in Paul's library, preferably listening to classical music or opera. She is such a classy cat.
It's a tough life!
So now we are up to 6 animals: The Diabetic Cat, The FIV/AIDS cat, The Feral Cat, The Anorexic turned Compulsive Eater Cat, the Reject turned No Known Pathology Yet Cat, and the Pseudo-cat Riley!
We moved to a bigger house last spring. We upgraded to a king-size bed a few months ago. But really, we don't cater to these animals!
By the way, Ripley is enormous! We haven't weighed her lately but she is probably about 20 pounds. She was about 9 pounds when we got her THREE YEARS ago. She has been extremely well-regulated with her diabetes. We continue to be amazed at how wonderful and amazing she is and how lucky we are that she came to us. A number of friends have learned to give her shots and my brother now lives with us so we have a third resident shot-giver. I wouldn't trade her for anything and I know all of you feel the same way about your sugar cats!

---
January 9, 2001: A reminder of Uncle John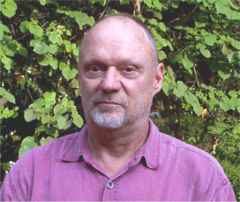 Tonight I was rereading some of the diary entries, particularly "Austin's Final Chapter". I was reading about our dear friend, John Strohl, who stayed with us each summer and spoiled the cats as much as we did. Austin and Eugene loved him so much. Unfortunately, John was diagnosed with a second cancer at the end of last summer. During his chemotherapy, John had a pulmonary embolus that killed him while he slept the morning of September 24, 2000.
John was such a loving and giving person, such a special person. I know that Austin and Eugene were thrilled to greet him at Rainbow Bridge.
I got this email and photo attachment from John on September 4 as he was about to start chemotherapy:
I decided to take control and get a very short haircut before my hair falls out. --John
Before this picture, I don't think I had ever seen John's eyes without a gleam in them.

Goodnight John. Goodnight dear friend.

---